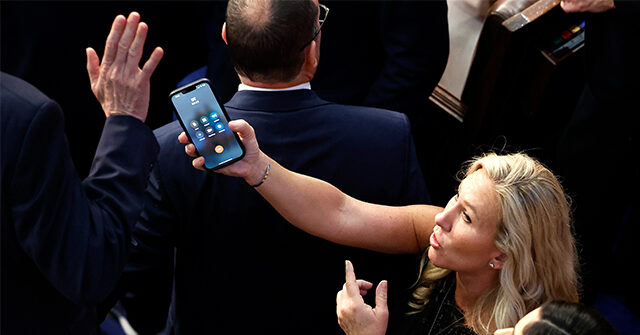 Rep. Majorie Taylor Greene (R-GA) reportedly attempted to get Rep. Matt Rosendale (R-MT) into a live phone call with former President Donald J. Trump Friday night, shortly after Rosendale betrayed Rep. Kevin McCarthy ( R-CA) voted ) for Speaker of the House in the unsuccessful 14th ballot.
McCarthy's defeat on the 14th ballot came by just a half vote, adding further tension to the 118th House of Representatives, which had voted for a speaker since Tuesday. Al Drago, a DC-based photojournalist, tweeted a picture of what has been described as a 'hot exchange' between the two representatives following Rosendale's vote for MP Andy Biggs (R-AZ).
Rep. Marjorie Taylor Greene, a Republican from Georgia, holds her smartphone with former U.S. President Donald Trump on the line while Rep. Matt Rosendale, a Republican from Montana, holds it during a session of the 118th Congress in the House of Representatives chamber declines on Friday.#SpeakerVote pic.twitter.com/VWvOGfXd9Q

— Al Drago (@Al_Drago) January 7, 2023
Greene, who has repeatedly voted for McCarthy, is seen extending her iPhone during a live call with a contact named "DT." Drago, who identified the contact as the former president, noted that Rosendale, who was one of 21 former McCarthy critics, "shoves it off".
Heather Caygle, Editor-in-Chief at Punchbowl News, tweeted that members had informed her about the same "heated exchange."
Members tell me MTG and Matt Rosendale get into heated exchanges at the same time as Rogers/Gaetz

MTG told Rosendale she had Trump on her phone and that he needed to speak to the former president immediately

Rosendale repeatedly shouted, "Don't ever make me like that!"

— Heather Caygle (@heatherscope) January 7, 2023
"MTG has told Rosendale she has Trump on her phone and he needs to speak to the former President immediately," she wrote. "Rosendale kept screaming, 'Don't ever do that to me!'"
The Georgia representative took to Twitter and called it "the perfect call".
It was the perfect phone call. pic.twitter.com/aRpf5pefoU

— Rep. Marjorie Taylor Greene🇺🇸 (@RepMTG) January 7, 2023
According to Caygle, Greene and Rosendale's exchange coincided with another tense moment. Rep. Mike Rogers (R-AL) confronted Rep. Matt Gaetz (R-FL) after Gaetz voted for attendance in the 14th round when suddenly Rep. Richard Hudson (R-NC) pulled Rogers back and hit him in the face packed. The incident happened seconds after a conversation between McCarthy and Gaetz.
Rep. Hudson, RN.C., left, pulls Rep. Rogers, R-Ala., as he confronts Rep. Matt Gaetz, R-Fla., during the 14th round of voting for Speaker as the House moves into the fourth day meets to attempt to elect a speaker in Washington on Friday, January 6, 2023. (@AP Photo/@andyharnik) pic.twitter.com/ok3K8ERtfU

—Andrew Harnik (@andyharnik) January 7, 2023
Kevin McCarthy confronts Matt Gaetz during the 14th House Vote. #118.Congress pic.twitter.com/nMa9bm0KSN

— CSPAN (@cspan) January 7, 2023
Eventually the fever settled and the fifteenth ballot proved the appeal as McCarthy secured the position in the early hours of Saturday morning. Several Republican officials stressed the importance of Trump's role in bringing about a resolution to this speaker's race, Breitbart News reported.