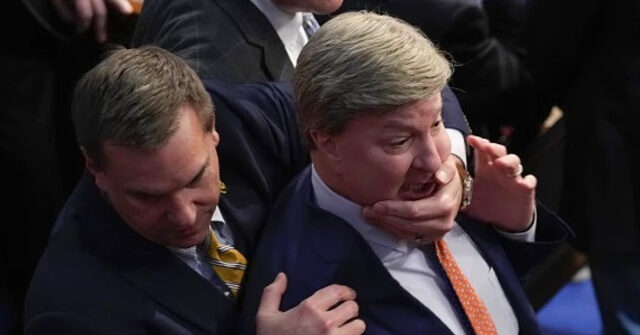 Tensions in the House were running high on Friday night when Members had to physically stop Rep. Mike Rogers (R-AL) from taking action against Rep. Matt Gaetz (R-FL) after the 14th attempt to take down Rep. Kevin McCarthy (R -CA) as Speaker of the House of Representatives.
McCarthy was within half a vote after the 14th vote to secure the speakership. Although McCarthy received 216 votes, that was not enough to secure the speakership at the time. Gaetz and Rep. Lauren Boebert (R-CO) voted "present," and four other House Republicans voted for other members.
Shortly after the 14th failed vote, McCarthy approached Gaetz at his place at the back of the room for a discussion. It's unclear what Gaetz and McCarthy discussed. When Gaetz pointed the finger at McCarthy, another member stepped in front of McCarthy and tried to defuse the situation.
US Representative Kevin McCarthy (R-CA) points to US Representative Matt Gaetz (R-FL), not pictured, in the House of Representatives chamber as voting continues for a new Speaker at the US Capitol in Washington (Photo by OLIVIER DOULIERY/AFP via @GettyImages ) pic.twitter.com/slct4J82z8

— Scott Gustin (@ScottGustin) January 7, 2023
After McCarthy returned to his seat, Rogers approached Gaetz's seat and bent over the three members seated between him and Gaetz to address the anti-McCarthy holdout.
However, as Rogers leaned forward to face Gaetz, another member, reportedly Rep. Richard Hudson (R-NC), came up behind Rogers, put his hand over Rogers' mouth, and pulled Rogers away from the confrontation.
CSPAN's convention cameras briefly captured the altercation:
Wild scene when Rep. Mike Rogers has to be physically restrained by another member while going after Gaetz while McCarthy tries to get the final votes pic.twitter.com/c0u2lZxgYr

— Cabot Phillips (@cabot_phillips) January 7, 2023
What is this shit? Mike Rogers from Alabama….? pic.twitter.com/kVKwkb8Wus

— GingerSnap (@CackyC) January 7, 2023
In addition, several photographers captured the confrontation from different angles:
Kevin McCarthy (R-Calif.) walks away from Matt Gaetz (R-Fla.) as an altercation ensues with Rep. Mike Rogers (R-Ala.) during a House of Representatives session to elect a House Speaker. Jack Gruber-USA TODAY @guygruber @US today pic.twitter.com/iUiXbdp9RV

— Andrew P. Scott (@apscott) January 7, 2023
Rep. Hudson, RN.C., left, pulls Rep. Rogers, R-Ala., as he confronts Rep. Matt Gaetz, R-Fla., during the 14th round of voting for Speaker as the House moves into the fourth day meets to attempt to elect a speaker in Washington on Friday, January 6, 2023. (@AP Photo/@andyharnik) pic.twitter.com/ok3K8ERtfU

—Andrew Harnik (@andyharnik) January 7, 2023
US Rep.-Elect Mike Rogers (R-AL) is low-key after getting into a dispute in the House of Representatives chamber (R-FL) with Rep.-Elect Matt Gaetz (R-FL) (@GettyImages | Chip Somodevilla) pic.twitter.com/2ppWZ5i1Ql

— Scott Gustin (@ScottGustin) January 7, 2023
Members of the House erupted in shock when the altercation took place, prompting McCarthy to turn and return to the two members.
"Rogers immediately went to the dressing room to cool off," according to NBC News.
After the altercation, a motion for an adjournment failed, leading to a 15th vote in which McCarthy finally secured the speaker's office.
Multiple R sources tell me that Gaetz agreed to vote for McCarthy…

— Olivia Beavers (@Olivia_Beavers) January 7, 2023