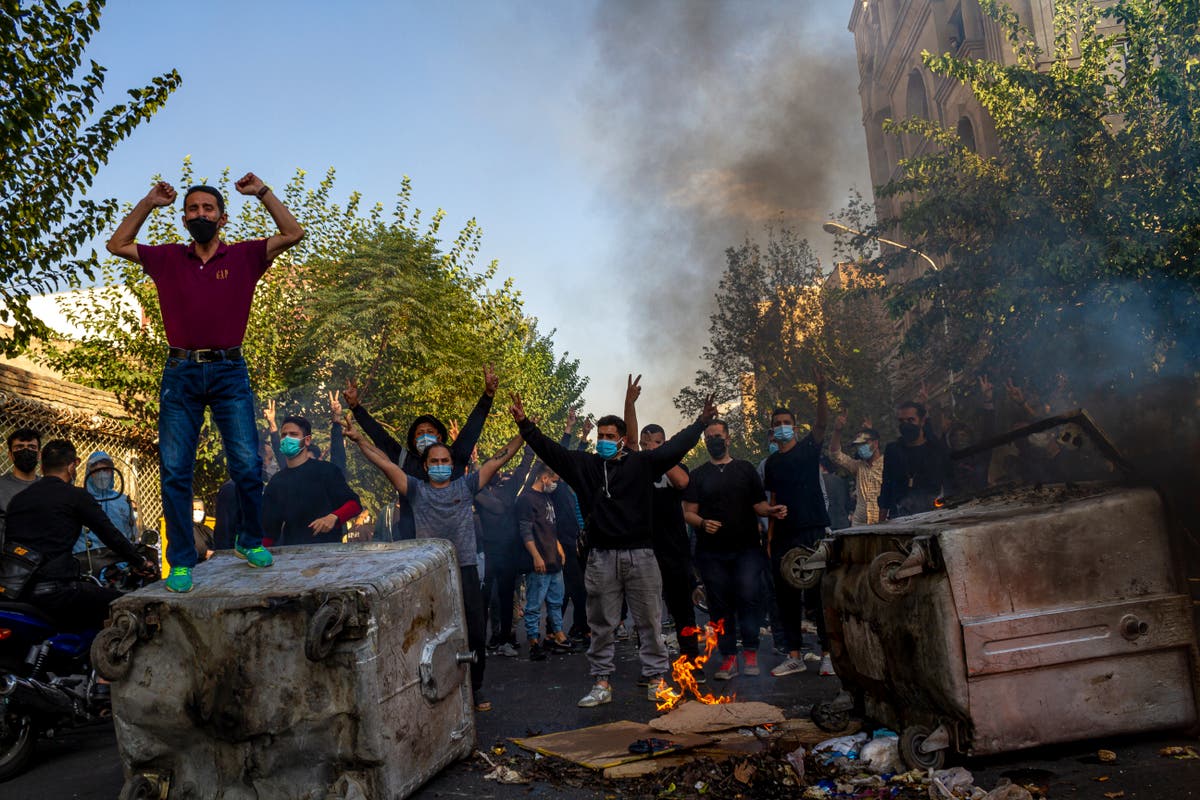 Iranian authorities have executed two men accused of killing a security guard during an anti-government protest.
Protests have been taking place in Iran since September that have killed at least 517 protesters, according to Human Rights Activists in Iran, a group that monitors the unrest.
Mohammad Mehdi Karami and Mohammad Hosseini were hanged by Iran's Supreme Court on Saturday following their sentencing.
"Mohammad Mehdi Karami and Seyyed Mohammad Hosseini, the main perpetrators of the crime that led to the unjust martyrdom of Ruhollah Ajamian, were hanged this morning," the judiciary said in a statement released by the official IRNA news agency.
Four men are said to have been executed by the Iranian state since the demonstrations began.
Iran's state-run Mizan News Agency said the men were convicted of the murder of Ruhollah Ajamian, a member of the Iranian Revolutionary Guard's Basij Volunteer Force, on November 3 in the city of Karaj outside Tehran.
All men executed by the Iranian judiciary faced rapid, closed trials that drew international criticism.
In heavily edited footage aired on state television, one of the executed men, Karami, spoke about the attack before the Revolutionary Court, which prosecutors said also showed a re-enactment of the attack.
Amnesty International said the trials bore "no resemblance to any meaningful trial".
Footage of Karami and Hosseini discussing the attack, used as evidence to prosecute, has been viewed by activists as coerced confessions.
Anti-government protests are raging across Iran
Activists say at least 16 people have been sentenced to death in closed-door hearings on charges related to the protests. Death sentences in Iran are typically carried out by hanging.
Activists in Iran also claim that over 19,200 people have been arrested, although Iranian authorities have not provided an official number of those killed or detained.
Security forces have used live ammunition, tear gas and batons to disperse protesters, according to human rights groups.
The protests, which began in mid-September, were sparked by the death of 22-year-old Amini after she was arrested by Iran's vice squad for allegedly violating the Islamic Republic's strict dress code.
Women in particular have played a leading role in the protests, with many publicly opting to remove their hijab or cut their hair.
The protests mark one of the biggest challenges facing the Iranian government since the 1979 revolution.