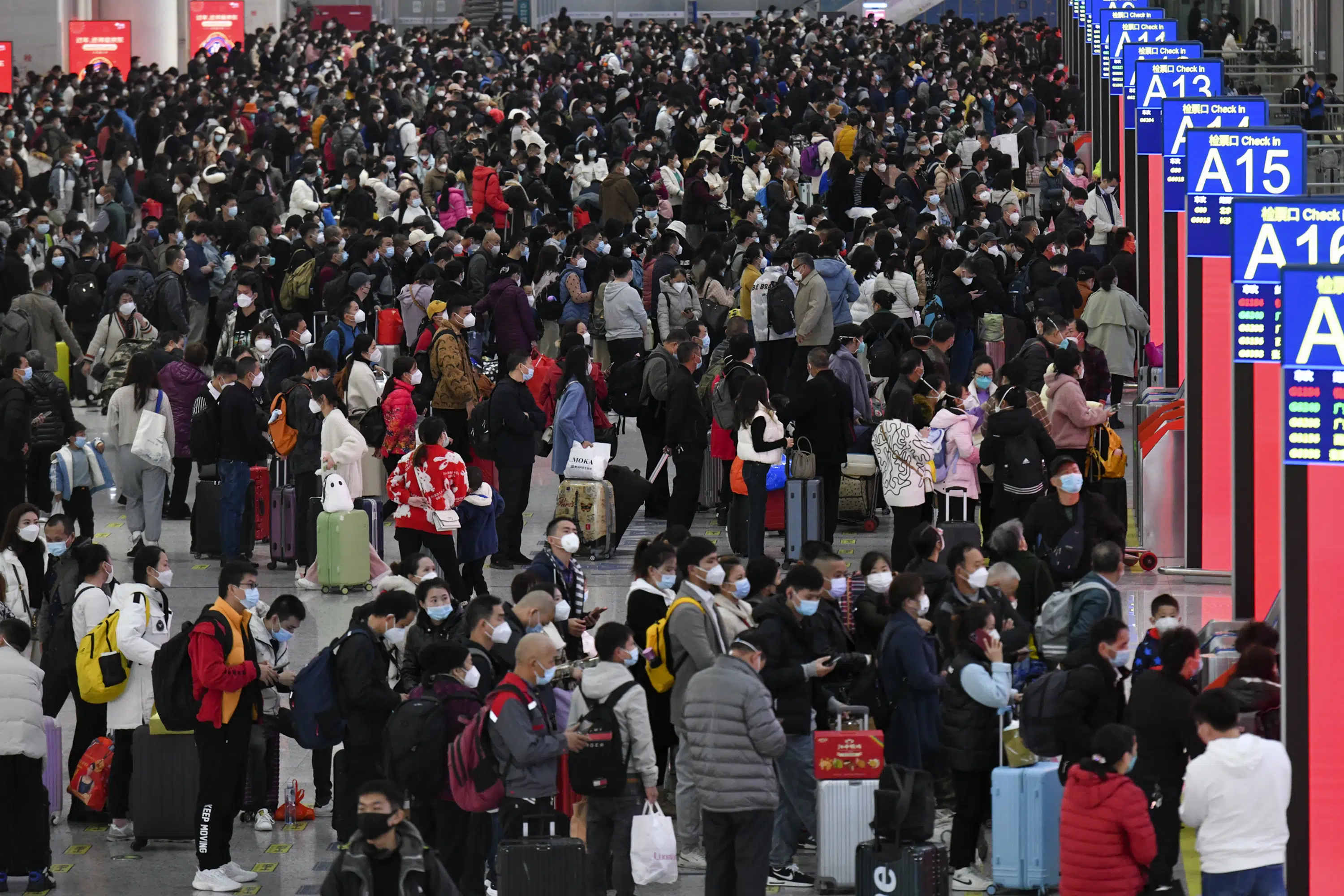 BEIJING (AP) — After two years of being separated from his wife in mainland China, Hong Kong resident Cheung Seng-bun made sure to be among the first to cross the border after border crossings reopened on Sunday.
The ability of residents of the semi-autonomous southern Chinese city to cross the border is one of the most visible signs of China's easing of border restrictions, as travelers arriving from abroad are also no longer required to quarantine.
"I hurry to get back to her," Cheung, who was lugging a heavy suitcase, told The Associated Press as he prepared to cross at Lok Ma Chau station.
However, travelers crossing Hong Kong and mainland China must still present a negative COVID-19 test taken within the past 48 hours – a measure China has protested when it was imposed by other countries.
Hong Kong has been hit hard by the virus, and its land and sea border checkpoints with the mainland have largely been closed for nearly three years. Despite the risk of new infections, the reopening, which will allow tens of thousands of people each day, is expected to provide a much-needed boost to Hong Kong's tourism and retail sectors.
However, China's borders remain largely sealed, with only a fraction of the previous number of international flights landing at major airports. That number is now expected to increase as Beijing's main airport prepares to reopen arrivals halls, which have been mostly quiet for the past three years.
China is now facing a spike in cases and hospital admissions in major cities and is preparing for further spread in less developed areas with the onset of the Lunar New Year travel rush, which is expected to begin in the coming days. While international flights are still reduced, authorities expect domestic rail and air travel to double from the same period last year, bringing the totals close to the 2019 holiday season before the pandemic hit.
China has said the testing requirements imposed on its travelers by foreign governments — most recently Germany and Sweden — are not scientifically sound and have threatened unspecified countermeasures.
Chinese health authorities release daily numbers of new cases, severe cases and deaths, but these numbers only include officially confirmed cases and use a very narrow definition of COVID-19-related deaths.
Authorities say that since the government ended mandatory testing and allowed people with mild symptoms to test themselves and recover at home, the government has been unable to provide a full picture of the status of the recent outbreak.
Government spokesmen said the situation was under control, dismissing accusations from the World Health Organization and others that it was not making transparent the number of cases and deaths, or providing other important information about the nature of the current outbreak that could lead to the emergence of new variants.
Despite such claims, the Health Commission on Saturday introduced regulations for increased surveillance for virus mutations, including testing of urban sewage. The lengthy rules called for increased data collection from hospitals and local government health departments, and increased checks for "pneumonia of unknown cause."
Criticism has largely focused on stubborn enforcement of regulations, including indefinite travel restrictions that have left people locked in their homes for weeks, sometimes without adequate food or medical care.
Anger was also raised over the requirement that anyone who may have tested positive or had been in contact with such a person be confined to a field hospital for observation, where overcrowding, poor nutrition and hygiene were often cited.
The social and economic costs eventually sparked rare street protests in Beijing and other cities, possibly influencing the Communist Party's decision to quickly relax the most stringent measures and reprioritize growth.
As part of the latest changes, China will also stop filing criminal charges against people accused of violating quarantine regulations at the border, according to a notice issued by five government agencies on Saturday.
Those currently in custody will be released and confiscated assets returned, the statement said.
The Department for Transport on Friday urged travelers to reduce travel and gatherings, particularly those affecting the elderly, pregnant women, young children and those with underlying medical conditions.
___
Associated Press reporters Raf Wober, Alice Fung and Karmen Li contributed to this report from Hong Kong.