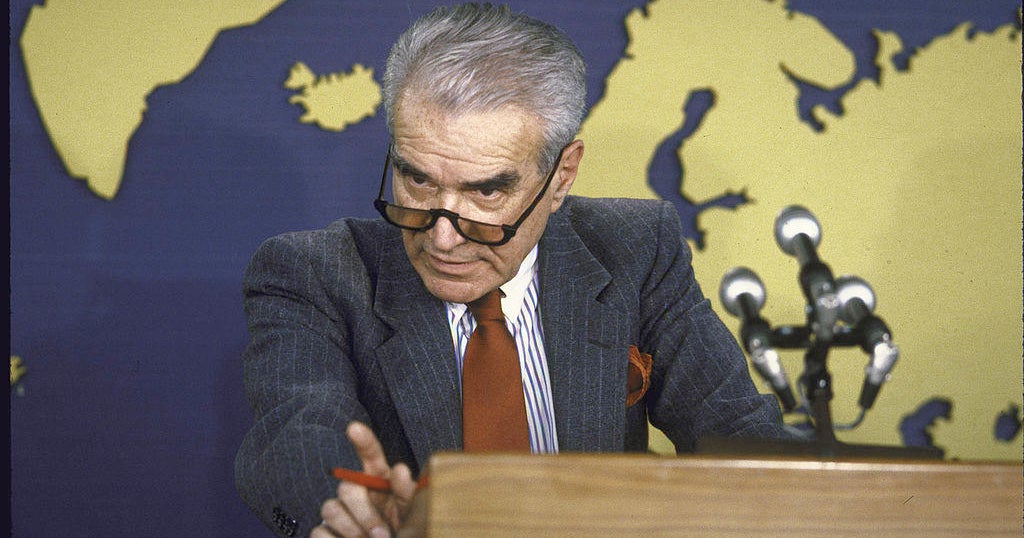 Bernard Kalb, veteran correspondent and former journalist for CBS News, died on Sunday, his daughter confirmed to CBS News. He was 100.
In a statement from Kalb's family, he was described as the "ultimate reporter" who has "a boundless curiosity and an insatiable thirst for knowledge."
"Above all, he was a person of impeccable integrity who embraced peoples and cultures around the world and loved his family dearly," the statement continued. "We have lost a journalistic giant. We will miss him very much."
Kalb's younger brother, Marvin Kalb, another former CBS News reporter, told the Washington Post that Kalb died at his home in suburban Washington from complications from a fall.
In a journalism career spanning more than six decades, Kalb worked for CBS News from 1962 to 1980 and accompanied former President Richard Nixon on his historic 1972 trip to China. Kalb was also responsible for opening CBS News' Hong Kong Bureau in 1972, was a Washington anchor on CBS Morning News, and was well respected for his coverage of Southeast Asian affairs.
Kalb has co-authored two books with his brother – one a biography of Henry Kissinger and another a novel about the fall of Saigon.
In addition to his prolific news career, Kalb is also known for a brief stint at the US State Department. Announcing his new role at the State Department in 1984, The New York Times called him a "well-travelled foreign correspondent" who served the office for eight years — through five foreign ministers — before being named its spokesman.
"This is the first time that a journalist covering the State Department has been appointed its spokesman," the Times wrote.
Kalb publicly resigned in 1986 following a misinformation campaign following US airstrikes that hit Muammar Gaddafi's estate earlier that year. The Washington Post exposed the campaign, reporting that the US had leaked false information to reporters that Kalb was unaware of, according to The Associated Press.
"I am concerned about the impact of such a program on the credibility of the United States," Kalb said, adding, "Anything that hurts America's credibility hurts America."
He later returned to journalism, becoming the first anchor of CNN's Reliable Sources in 1992.
According to The Associated Press, he is survived by his wife Phyllis and four daughters, Tanah, Marina, Claudia and Sarinah.